Written last week: Maeven is currently working on her first "Sketch Tuesday"…I've been wanting her to do this for awhile…I just haven't sat down and had her do it.
For Sketch Tuesday, the woman who runs the site with the challenge comes up with a new challenge each week and posts it. (See link above). This week's challenge was "Sketching something you wear in the rain."
I'll have to post the pictures later because something's not working right and I cannot get the stinkin' picture to show the right way! And I have other things to do now…
Written today: I finally am updating this post, LOL…I started writing this last Tuesday, now she's working on another pic, but here's from last week:
And here's her final entry, which is from the assignment "Sketch something you wear in the rain."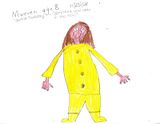 Click on the pics above to see the full size images.